CHALLENGING COASTAL MOUNTAIN TRAIL TO ALPINE PEAK
¥30 000

       private solo guide

¥18 000

       per person for 2 clients

¥15 000

       per person for 3 clients

¥13 000

       per person for 4 or more
2 Litres water capacity (minimal water points)
Solid hiking shoes/boots
Waterproof jacket
Day pack ~ 25 litres
Sunglasses
Gloves
Warm layer
Lunch is included! (but bring snacks)
Difficult (Mountain Trail, Steep Ascent & Ropes)
Mt Mochomu is the most demanding trail as it is steep and the trail relatively wild.  It is also one of the most spectacular day hikes that we offer here at YAKUSHIMA EXPERIENCE.  Located at the south-eastern coast of Yakushima near Hara Village, the start point is located on the Senpiro-no-taki path, which is in itself a phenomenal waterfall.  It is probably only 200m from the carpark to the Mt Mochomu trailhead.
This is a solid uphill hike which will take around 3-4 hours to reach the granite rock feature Mt Mochomu.  This hike is covered by lush forest for most of the way up, and this is a good thing when the sun is shining, as the shade the trees provide is most welcome.
The trail goes through forest for most of the hike, and passes `Bandai sugi `(a majestic tree thought to be around 3000 years old) and reaches the highest point of the trail, Kamiyama tembodai (979m).
From Kamiyama tembodai you actually look down onto Mochomudake, and you also start to get an  idea of how high up you are.  Mt Mochomu is a granite formation, and its location away from the main mountain, makes it a special place to be.  To reach it from Kamiyama tembodai you descend around 40m via a bottleneck rock ridgeline.  Due to this exposure, it is probably not a good idea to do this hike in high winds!
The ridge line takes 15-20 minutes, and the views are amazing.  From the ridge you really get a good feel for the vast granite mountain range towards the island`s interior.  When you get close to the Mt Mochomu you ascend up the side of the huge rock dome, and there are some ropes set there to assist.  While you don`t need climbing experience, some upper body strength certainly helps here.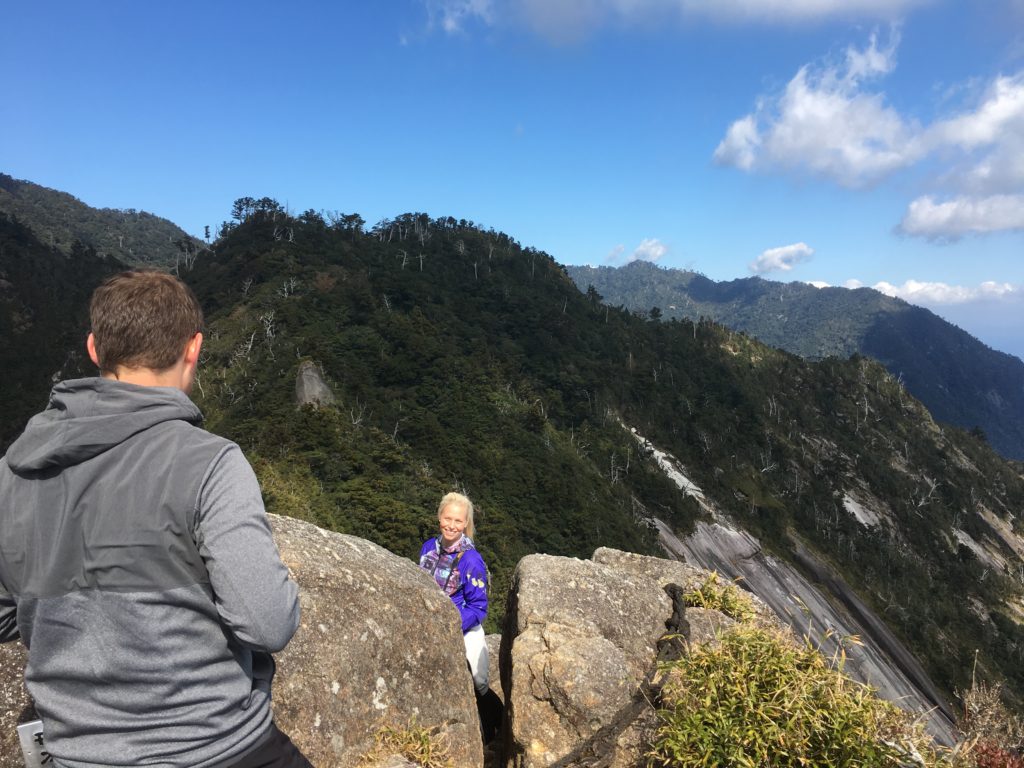 At the top the 360 degree views are nothing short of breath-taking.  This is a great spot to sit and have some lunch, take in the scenery and of course the obligatory photos.  A sunhat and wind-breaker jacket are often needed if you plan on being at the top for a while.
---